01.24.13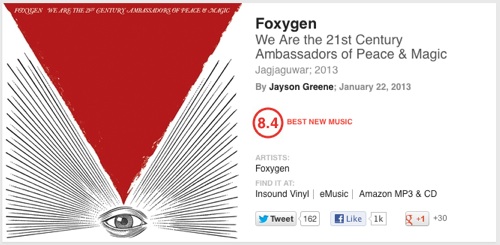 Before you play a note, your band begins as a series of decisions: Which bands inspire us? Who do we want to sound like? What are we going to call ourselves? These early triangulations often lead to everything else falling into place: bass lines, vocal affectations, guitar tones, production, album-art style. They say a lot about the band you intend to become. Sam France and Jonathan Rado, a duo from L.A., decided at some point that they would be called Foxygen. Yes, they were still in high school at the time. But when you pair that name with the unwieldy title We Are The 21st Century Ambassadors of Peace and Magic, you get a certain picture: goofily endearing, kid-brother types, the kind of guys who will probably embarrass you in public if you let them. Which makes the assured and witty We Are that much more surprising.
France and Rado have been playing together for years, and they've apparently spent that time working through their relationships to their record collections. Faced with the terrifying bounty of the rock menu on their 2012 EP Take The Kids Off Broadway, they seemingly shut their eyes and ordered everything at once: The songs stumbled through styles like there was a demented drill-sergeant producer in the background yelling, "OK now, Memphis soul! Now, when I say, Merseybeat-era Beatles! GO!"
We Are, by contrast, has more poise, rifling with effortless cool through retro-rock quotes and mannerisms– France's gulps and sobs draw directly from the Mick Jagger of "Let's Spend the Night Together" at one moment and channel the thousand-ton boredom of Lou Reed the next. Meandering organ pokes through on "No Destruction"; flecks of "Under My Thumb"-style guitars pop up on "On Blue Mountain". In the lovely "San Francisco", France paints the city as a place where "the forest meets the bridge," and the grass scent of the Kinks' We Are the Village Green Preservation Society wafts by (even their album title is an echo of that one). Having a great record collection and having some idea what to do with it are two different things, and on We Are The Ambassadors Foxygen have internalized enough of the music they love to start toying with it.
As you spend more time with We Are, you begin to notice some of that playfulness manifesting itself, like the pitched-down vocals counting in the opening of "On Blue Mountain", a song that rattles through multiple tempo and key changes without seeming disjointed. The warbly "Oh Yeah" can't seem to decide what kind of homage it is, veering between a yearning Captain Fantastic falsetto chorus, Blood Sweat & Tears symphonic soul, and an "aww-yeah" breakdown that is a near-direct quote of "Mr. Big Stuff". The echoes are blurred further by producer Richard Swift, a talented singer-songwriter with a meticulous ear for period detail. He follows the band's songwriting cues wherever they lead, and Ambassadors seems to be reporting from  three simultaneous decades of rock history.
France, meanwhile, has become a sharp storyteller and lyricist, reeling off lines that feel like insults even if you can't parse them: "I caught you sipping milkshakes in the parlor of the hotel," he yawns on "No Destruction", before delivering the piercingly direct (and already heavily quoted) stinger "There's no need to be an asshole, you're not in Brooklyn anymore." On "Shuggie", he sighs "I met your daughter the other day, that was weird/ She had rhinoceros-shaped earrings in her ears," an arresting image that in context evokes an odd sense of sadness. The call-and-response chorus of "San Francisco"–  "I left my love in San Francisco/ (That's okay, I was born in L.A.)"– hits like a joke even if the target isn't clear.
Slipped between the air quotes are proclamations that ring with personal truth: "We can live on blue mountain like livin' in a sunset/ We can live honestly and true," goes the chorus to "On Blue Mountain". On "Shuggie", France sings "If you believe in yourself, you can free your soul." He sings it in a warbly, affected voice, pulling a face at the sentiment slightly, a trick he repeats at the album's coda, where he keens in an off-key choirboy voice: "If you believe in love/ Everything you see is love/ So try to be what God wants you to be/ And say that I love you/ Again." It's one thing to give your band and your album a silly name, and to play dress-up with rock history while tweaking the formula. It's another thing entirely to mean it; the more time you spend with Ambassadors, the more clearly that commitment and joy comes through.